We just published a blog post about our goals for experimenting with a Mural Board for our upcoming Backdrop LIVE. This is a companion post on the mechanics of what Mural is and how to use it. 
A Mural Board is a big digital white board that can be used for small to large groups, while there are different permissions possible our board is set up for anyone to edit. Anyone can add content and move things around (with some exceptions). It has a revision history so changes can be reverted and mistakes can be fixed.
Here is a quick summary of things you need to know. 
This board is meant to be a group collaborative effort. You can and SHOULD edit it. Some specific items are locked down and revisions are tracked. Don't worry about breaking it, it can be fixed if necessary. It is only useful if users take the initiative to actively use it. 
 
The left side of screen has a toolbar where you can access the most important tools, resources, icons, and images. There are lots of resources there, please experiment with them. [#1 in screenshot]
 
The idea for a mural board is that you will scroll around and zoom in and out. Somethings are very small and require zooming in to see them. You can not participate effectively in this mural board if you can see the entire board at once. Move around and zoom in/out to get the full effect. You can add small content that users need to scroll in to view. 
 
Make sure that you have the correct zoom settings for mouse or trackpad, depending upon which you are using [see #2 in screenshot]. Ability to zoom in and out quickly is important for effective use of this board.
 
Double click to create a 'post it' note. If you don't do anything else, leave 'post it' notes with questions or information. They are easily moved and reorganized. If you are having trouble creating a new 'post it' note, simple click one of the many blank 'post-it' notes on the board, add some text and move it around.
 
Most (but not all) things on the board can be resized or moved. 
 
You can see who else is on the board at any time and see what they are looking at ("follow them"). [#3 on screenshot]
 
If you are nervous about editing this Mural Board, try our Sandbox that built specifically for folks to experiment with and go wild. 
 
Do not limit yourself to what has already been started. Go ahead and add something new. If you need space, just zoom in, there is LOTS of real estate available on this board and we can make it bigger if necessary. We can't wait to see how you decide to use this board as part of Backdrop LIVE.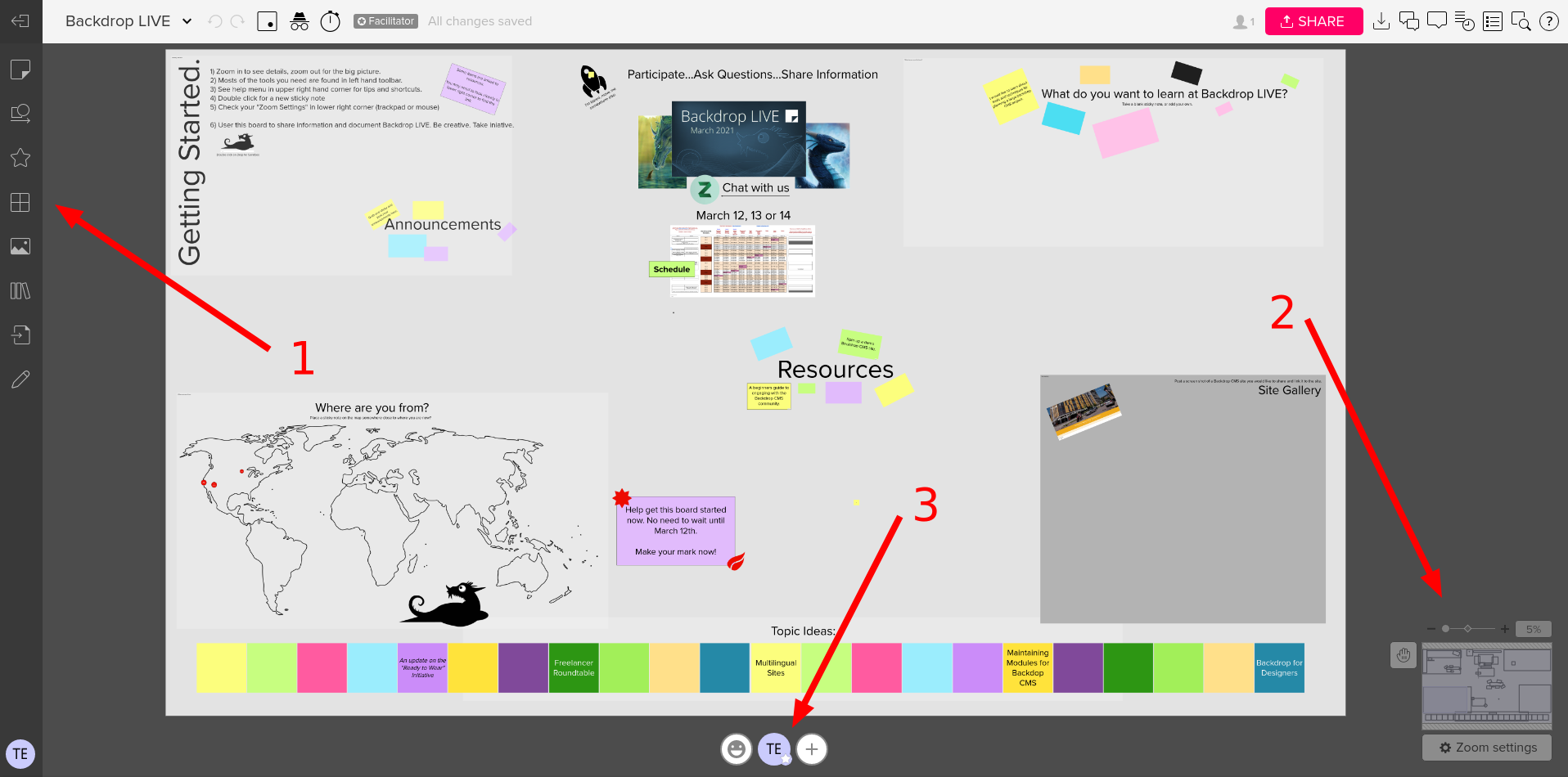 Here are some direct links to things you can currently do on our Mural Board
NOTE: This list may AND SHOULD change depending upon how people are using the board.