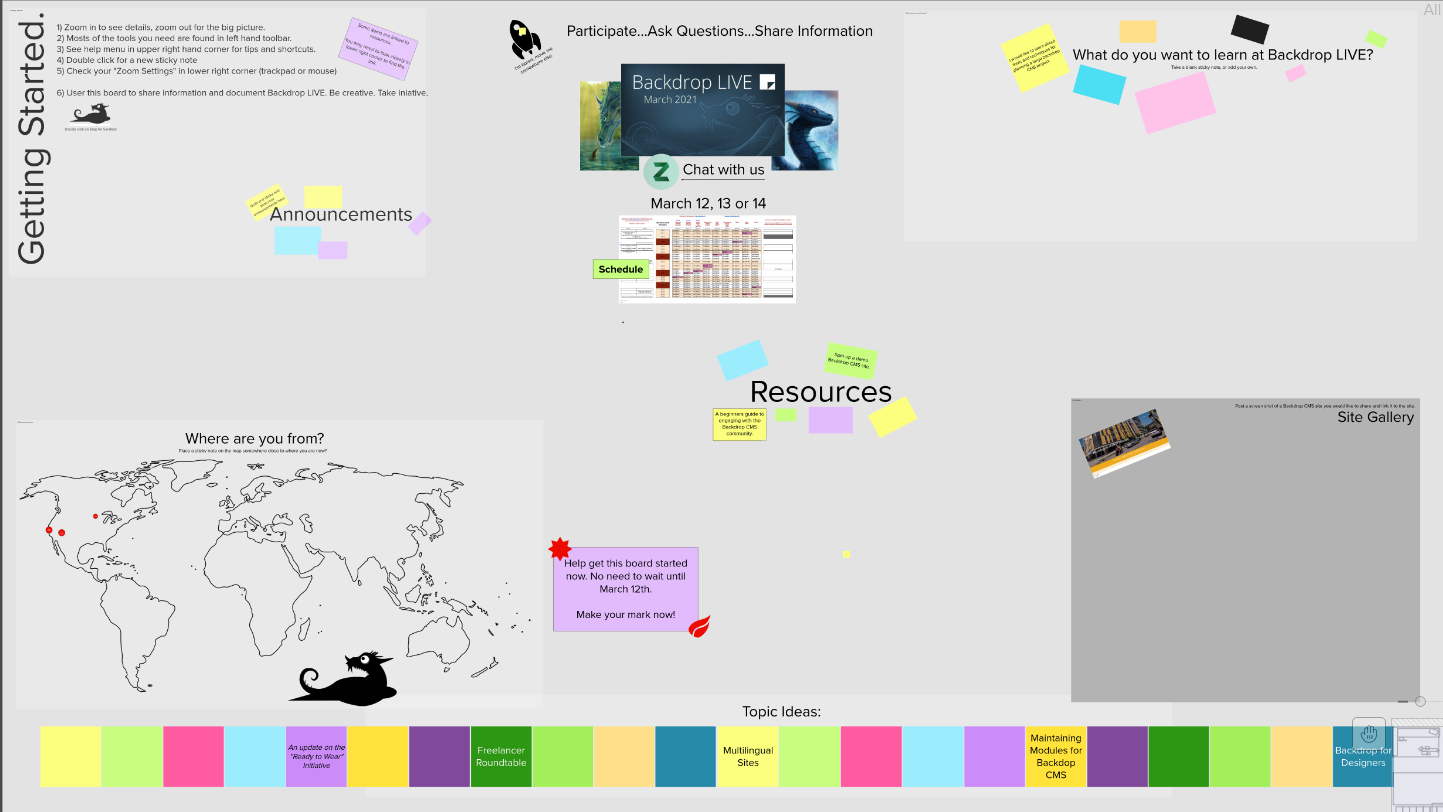 We have been experimenting with the use of a Mural Board for the upcoming Backdrop LIVE.
MURAL is a digital workspace for visual collaboration, where everyone can do their best work together.
In other words, a Mural Board is a fancy virtual white board that can be used for collaboration and facilitating virtual meetings. 
Backdrop LIVE is March 12-13 (or 14th in some places)
Our goal is to host an engaging event that maximizes participation and interaction, and we are looking for creative ways of achieve this goal in this relatively new world of online conferences and camps. Other things that we're trying include:
An "unconference" format. See our schedule. We're asking participants to tell us what topics they wish to discuss, and ideally to volunteer to facilitate a discussion on that topic. Users should attend both topics that they want to learn about, but also topics in which they have knowledge or experience to share. If you want to do a more structured presentation, we encourage you record it in advance, and use Backdrop LIVE for questions and answers or additional discussion. You don't have to be an expert to facilitate a discussion; you can host and facilitate a discussion on a topic you want to learn more about, relying on other participants to help move the discussion forward.
A better "hallway" experience. We will have a single Zoom room for the event, and use breakout rooms for topics. This way, everyone will enter the "hallway" before joining a discussion. When you leave a discussion, you will at least have the opportunity to pass through the hallway on your way out, and potentially bump into other participants OR ask one of our volunteers a question. We are hoping that this is an improvement on how things worked for our last event, and that this will encourage more casual conversations. This will require that there is always a volunteer in the "hallway", ready to answer questions and help people find the right breakout room.
Active use of Zulip chat during event. We are encouraging participants to log in to our chat room on Zulip, and engage with other participants there throughout the event AND afterwards. Using Zulip for chat during the event (over the chat feature in Zoom) means that even folks who are not in the room with you will be able to participate, and that a record of the chat will persist after the room has been closed.
Experimenting with the new Backdrop events website. For this event, we've added the ability for users to create accounts and register on our site (instead of Eventbrite that we used for the previous Backdrop LIVE). This opens up the potential for better user profiles, and access to a schedule using your preferred or local time zone. Details and background information about discussion topics will be available on the website. Not all of these ideas have been implemented yet, but we are working on them for our next Backdrop LIVE (tentatively scheduled for July).
In theory, a Mural Board could be a unifying tool that either ties the other tools together OR is at least one piece in the overall puzzle. A Mural Board could be one big visual document, that can be accessed and updated by ANY participant at any time during the event. It could be a clearinghouse of information and links to other resources. A place where anyone at the event can post a note at anytime during the event. It could be something of an icebreaker, to help folks ease themselves into the "participation" part of the event. It's much easier to add a post-it note to a digital white board than it is to interrupt and active Zoom discussion and share an experience or ask a question.
Of course, it will only be successful if participants use it. Participants will not use it if it's too complicated or confusing. 
The current Mural Board includes the following:
A welcome block with instructions on how to get started (still needs input and work).
A map where folks can post a pin indicating their location, to help visualize the community to everyone who is there - but not physically in the same room at the same time. 
A place where anyone can post an announcement, a job listing or a request for opportunities, an upcoming event, and resources they would like to share with the rest of the group.
A Site Gallery where folks can post a quick screenshot and link to a Backdrop site they are working on. 
Topic ideas. A place where anyone can share any questions that they brought with them to Backdrop LIVE, or suggest a topic for discussion (without the pressure of being asked to facilitate it). 
An interactive schedule. Just like the BOF board at Drupal events. Add your topic to the schedule.
This Mural Board can be made bigger to include more options, or options can be quickly removed if we decide they are not necessary. 
Most importantly, the goal of the Mural Board is to provide a tool that event participants can use to organize themselves and/or make things happen during Backdrop LIVE, without needing permission or assistance from website administrators.
We would love feedback on our proposed use of the Mural Board for this upcoming Backdrop LIVE, as well as any other ideas that folks might have to make this the most engaging and interactive event we are able to host. 
To share feedback or ideas about this or other topics, visit with us on Github: https://github.com/backdrop-ops/backdropcms.org/issues/773