On the tails of 2015, I can only look back with pride at all our growing community has accomplished this past year.
We released Backdrop CMS almost one year ago and already we've had two successful new major releases, right on schedule. Those releases introduced some important new features like a rich-text editor in core, and some big user experience improvements like a new look to our administration theme.
But even more exciting than everything that's changed in core over the last year is what else has been happening in the Backdrop community! Below are just a few of the fantastic things that happened last year.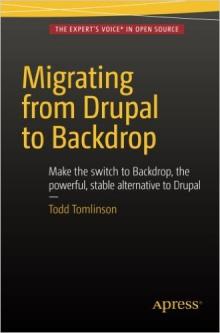 First book published on Backdrop CMS
Todd Tomlinson, author of "Pro Drupal 7 Development", has published a book called "Migrating from Drupal to Backdrop", which is available now from Apress.
First Backdrop CMS training workshop
SANDcamp 2015 hosted the first Backdrop training workshop. Sad you missed it? Don't worry we're doing it again this year! Sign up for a full-day Backdrop CMS training at SANDCamp 2016!
Growing collection of contributed modules, themes, & layouts
The Backdrop community has already produced almost 200 add-ons. Most of these have been quickly ported from existing Drupal projects, and more than half of them are already production-approved with official releases on backdropcms.org.
New! Create an account on backdropcms.org
To help support this growing community, we'll be deploying more fantastic new features to the Backdrop website. Create an account today, and keep your ears open for what's coming next!
More updates to follow!
This post is our commitment to doing a better job of spreading the news.  We will regularly write up announcements for all the fun and exciting things happening in the world of Backdrop! Please follow our news feed at http://www.backdropcms.org/news.