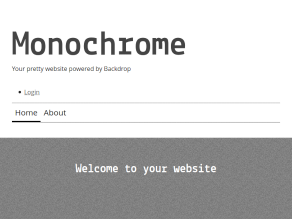 No colors, no distraction. Let your content be the main actor on your site.
Monochrome ships with a dark-mode switcher, also for anonymous (works with
Javascript but without cookies).
With a touch of retro and velour.
Installation
Issues
Bugs and Feature requests should be reported in the Issue Queue
Current Maintainers
Credits
Written for Backdrop by Indigoxela
The Lekton font used for headings has been designed at ISIA Urbino,
and is inspired by some of the typefaces used on the Olivetti typewriters.
(Open Font License)
License
This project is GPL v2 software. See the LICENSE.txt file in this directory for the complete text.