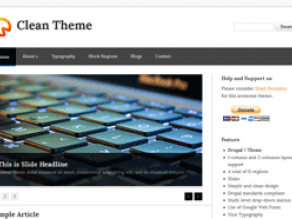 Cleanish is a port of Clean theme by www.devsaran.com. Cleanish is a fixed
width (980px) theme. The theme is not dependent on any core theme. Its very
light-weight for fast loading with a modern look.
Simple and clean design
Fixed width (980px)
Installation
Install this theme using the official Backdrop CMS instructions at
https://backdropcms.org/guide/themes

Visit the configuration page under Appearance > Themes (admin/appearance)
and enable Cleanish.
License
This project is GPL v2 software. See the LICENSE.txt file in this directory for
complete text.
Maintainers