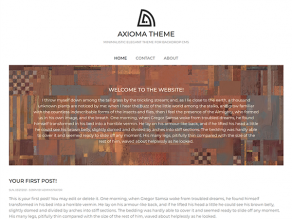 Minimalistic elegant theme with Color module support. Designed to be a frame for
intricate visual content, to showcase artist's or photographer's work. Despite
austere color palette the theme offers decent color customisation capabilities.
It was largely inspired by themes from Koken CMS for photographers.
Features:
Installation
Issues
Bugs and Feature requests should be reported in the Issue Queue:
https://github.com/backdrop-contrib/axioma/issues.
Current Maintainers
Credits
License
This project is GPL v2 software.
See the LICENSE.txt file in this directory for complete text.